Mobile Edge, the market leader in innovative and stylish laptop computer carrying cases and accessories, has unveiled the next generation of computer backpacks. The
Mobile Edge EVO Backpack
is a result of years of customer research and end-user feedback.
Just in time for the Back-to-School season, the new EVO Backpacks are the perfect combination of ergonomic design, quality and value.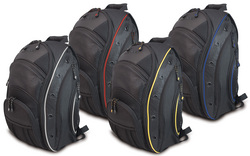 Mobile Edge EVO Backpack Collection made for 16" PC Laptops and 17" MacBook Pro computers.
The innovative EVO backpack is designed to protect all the popular models of wide-screen laptops up to 16", as well as many 17" models like the 17" MacBook Pros. The EVO features sixteen interior and exterior pockets for all your travel accessories and personal items. A new interior workstation was added to hold popular sized memory cards, flash drives, business cards, pens and pencils, plus a media pocket for your iPod or MP3 player.
Another Mobile Edge exclusive feature is their Cool-Mesh padded back-panel and shoulder straps designed for user comfort over prolonged use. A ruggedized bottom panel was added to protect the backpack from moisture, dirt and grime and for overall durability.
The EVO also features a clever zip-open water bottle carrier that will hold various size liquids – a key request among backpack users. Topped off with great styling, quality construction and backed by a lifetime warranty, the EVO Backpack may be the last backpack you will ever need!
The feature-rich EVO Backpack is available in four accent trim colors:
Black with a Silver Reflective trim, Black with Yellow trim, Black with Blue trim and Black with Red trim.